News
Australian Associated Press to Shut Down After 85 Years in Operation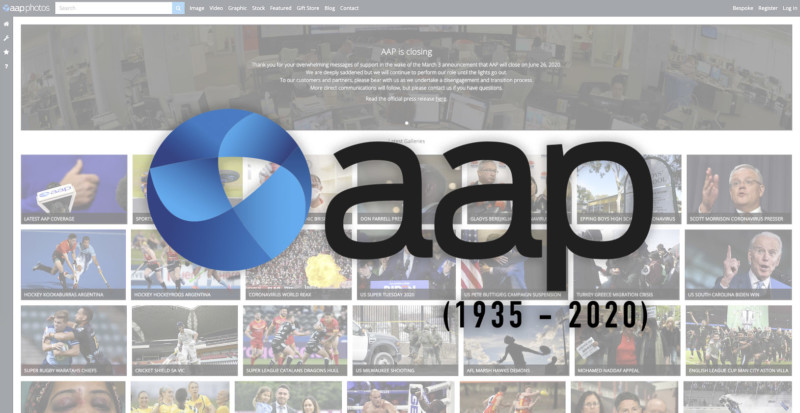 The Australian Associated Press (AAP) has announced that it will be closing down in June, marking the end of the 85-year-old news agency and leaving many award-winning photojournalists out of a job as the Australian editorial landscape adjusts to the loss.
The closure—which was announced on March 3rd by majority shareholders Nine Entertainment and News Corp Australia—is being blamed on the rapidly changing media landscape that has rendered the wire service "no longer viable."
"This difficult decision has been forced by the decline in the number of media companies subscribing to the news wire service in recent years," reads the AAP press release. "The unprecedented impact of the digital platforms that take other people's content and distribute it for free has led to too many companies choosing to no longer use AAP's professional service. We have reached the point where it is no longer viable to continue."
Too many of AAP's former customers are relying on Google and Facebook, said AAP CEO Bruce Davidson.
Australian Associated Press employees look on in the Melbourne office as AAP CEO Bruce Davidson announces that Australia's news wire is no longer viable. @aap_photos @AAPNewswire #auspol pic.twitter.com/je2RbBeMX4

— James Ross (@jamesrossphotog) March 3, 2020
"AAP has been a critical part of journalism in Australia since 1935, and it is tragic that it will come to an end," laments Davidson. "Our reporters, photographers, videographers and production staff are second to none."
180 journalists, including some of the best photojournalists in Australia, will lose their jobs when the AAP officially shuts down on June 26th. And while the release does mention that News Corp and Nine will both be expanding their own news teams, it's unclear if any of those new jobs will involve photography. As Inside Imaging points out, both News Corp and Fairfax Media—which recently merged with Nine Entertainment—are major clients of Getty Images.
(via The Guardian)