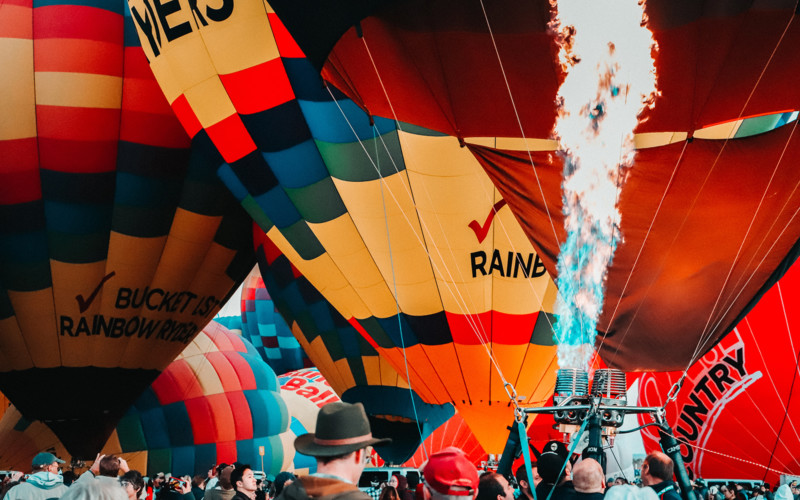 The beloved Albuquerque International Balloon Fiesta, once proclaimed the "world's most photographed event" and a major advertising opportunity for Canon every year, has been cancelled for 2020. The 49th annual balloon festival won't be held until October of 2021.
If you've spent any time in the world of photography, you've probably heard about the Balloon Fiesta or at least seen images from it. The nine-day event takes place the first week of October every year, with some 600 hot air balloons participating in recent years. It's no wonder photographers flock to the Fiesta, leading organizers to call it "the world's most-photographed event" in 2017, when approximately 25 million pictures were taken over the course of the week.
Unfortunately, due to the uncertainty surrounding the COVID-19 pandemic, the organizers have decided to "postpone" the 49th annual event until 2021, essentially cancelling this year's Fiesta without having to cancel everybody's reservations and sponsorships. The organizers will "roll over" all 2020 sponsorships, reservations, tickets and RV spaces to 2021 for those who can make it next year; if you can't, the Fiesta's organizers will provide a refund or allow you to turn your purchase into a "donation" to The Balloon Fiesta, which is a 501(c)(3) non-profit organization.
The Balloon Fiesta Director of Operations Sam Parks goes into detail on all of this in the video below:
"When COVID-19 first began to impact our world and eventually our community, our non-profit organization held out hope to still launch our event this October," reads the official announcement. "However, with only three-and-a-half months left until the planned start of Balloon Fiesta, there are many variables that are out of our control, potentially impacting the health and welfare of our attendees."
This will be the first time since 1972 that the even is not being held.
To find out more about the decision to cancel this year's fiesta, or if you want to find out what happens to your tickets if you were planning to attend this year and can't next year, watch the video above or head over to the Albuquerque Balloon Fiesta website. And if you've ever been to the event in the past, feel free to get nostalgic and share some of your photos in the comments.
---
Image credits: Header photo by Chase McBride, CC0